Lordiron is an Italian invention developed by Luca Valcarenghi, with which you can transport clothes and jackets in suitcases without wrinkling them.

The product consists of a very thin and lightweight polyethene form inserted inside clothes and jackets and then folded and stored in a suitcase. In this way, an air gap is created, which prevents the fabric from being crushed and thus the formation of creases.

Thanks to this system, you will arrive at your destination with perfect jackets and suits.

Lordiron is unisex and fits both Men and Women's jacket sizes.
Business travelling has never been smoother.
Wherever your compass points, you will arrive in style.
LordIron smoothes out the wrinkles in travelling so that you will be dressed to impress at your destination.
A smart travel accessory that's feather light, easy to use and designed in Italy.
Buon viaggio!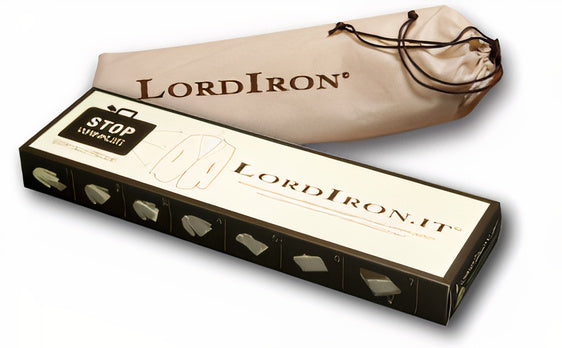 Packaging
Perfect for a gift
Every traveller has the problem of arriving at their destination with as few creases as possible, regardless of the length of the journey. So it is the perfect gift for gentlemen or ladies who always want to be tidy.